Important info for our Zoom classes & lessons
Sunday, March 22, 2020 by Elizabeth Erickson | Uncategorized
Hi Students,
I am looking forward to seeing you all via Zoom this week! I have updated our studio calendar in the portal. Please sign in and double check that your new timeslots match what I confirmed with each of you individually; I've done my best, but normally I get at least a few weeks to proofread a new schedule!
NEW: there is now a link directly from your portal to our Zoom meeting on your homepage as well as in the calendar, indicated below with red arrows: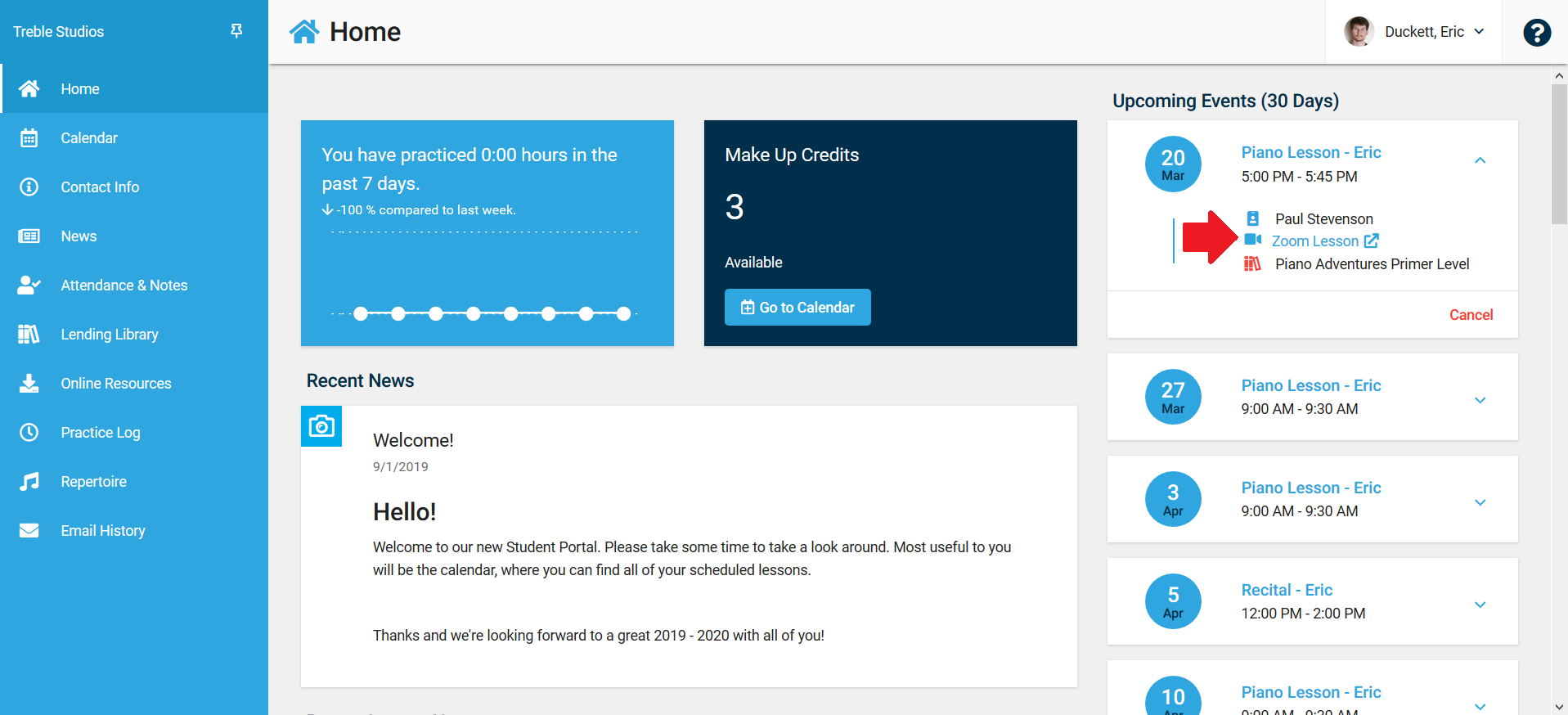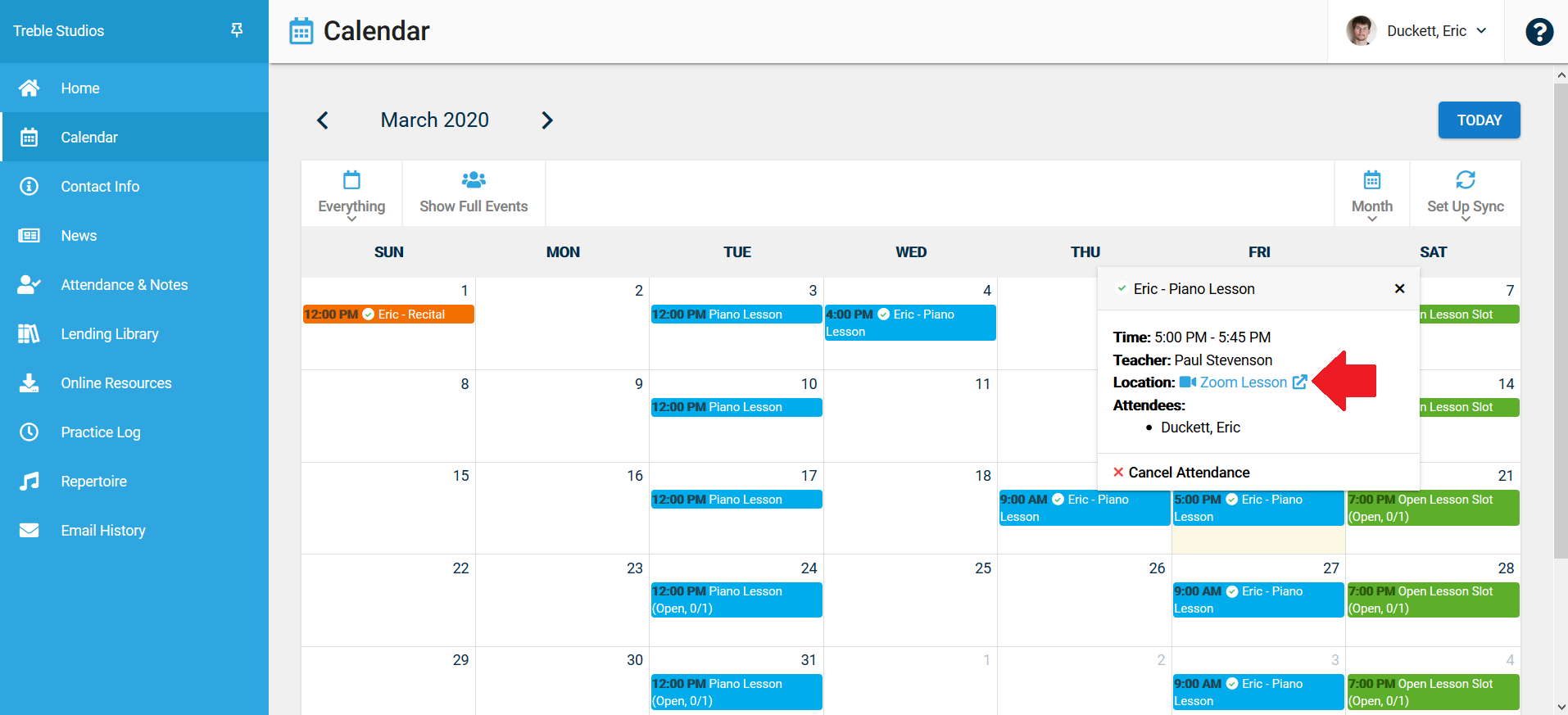 This should make your virtual commute fairly easy! However, if you have any technological issues arise please send me a quick text; I'll try to keep my phone close by during the first few minutes of each class in case anyone needs help logging in this first week.
I recommend the following audio settings (not all are available on mobile devices or the browser version of Zoom; all should be possible on a computer if you downloaded Zoom):
"Automatically adjust microphone volume." Turn OFF.
"Allow option for using original sound." Turn ON. [If you are able to do this, then in the upper left corner of the main video screen, you'll see a box that says, "Enable Original Sound." Make sure this is set to have original sound on each lesson. The wording is confusing on this, so I've started toggling it back and forth to make sure.]
"Suppress persistent background noise," Turn OFF.
"Suppress intermittent background noise." Turn OFF.
And here's a day-of-class checklist to ensure things run as smoothly as possible:
Please begin the process of navigating to Zoom at least a few minutes early! I will have a virtual "waiting room" set up so you don't need to worry about interrupting the previous lesson.
Set up your device the way we discussed in our prep meetings a few days ago: piano players I'd like to see all of the keys and your arms at least from elbows to hands, preferably from the right side looking left. Bowed string players I would like to see both your left hand and at least the contact point of your bow, preferably most if not all of the bow. Guitar and recorder players I want to see both hands. (And of course if possible I'd love to see everyone's faces!)
If your instrument requires tuning (violin, viola, cello, guitar) please tune ahead of time! If you need tuning help, ask me the day *before* your class and I would be happy to help walk you through it.
For younger kids especially, try to meet any pressing needs (bathroom, food, water) beforehand.
Little Violin Twinklers please have a washable marker ready to draw Fred! Draw him ahead of time if possible. (You were introduced to Fred in your pre-recorded video class last week Friday).
Absences and makeups for classes: I have set all Zoom classes to be recorded automatically so an absent student can watch the video later as an on-demand makeup class!
Absences and makeups for private lessons: Students who will be absent from a private lesson can reschedule as long as I am contacted before 10am that day.
I think that's it! Thank you for your patience and understanding as we figure this out together. I am glad to be able to offer my students (and myself!) a tiny pocket of normalcy in otherwise unfamiliar terrain. I have taken care to design these Zoom classes to be extremely flexible so students can easily opt in or out of learning new material each week. In tough times, music offers me a great deal of comfort, and it is my primary goal to help my students experience this themselves.
Cheers,
Elizabeth
Temporary Studio Closure Due to COVID 19
Thursday, March 12, 2020 by Elizabeth Erickson | Uncategorized
After careful consideration I have decided to cancel classes tomorrow (Friday 3/13). While the known coronavirus presence in Sonoma county continues to be low and currently the only official recommended restriction in place involves indoor activities for folks ages 50+, reputable sources are urging immediate social distancing. This advice is convincingly backed by all available data.
We have next week off from classes for spring break anyway (this was already built into our schedule, no makeups needed), which gives us time to see where things are headed. Personally I hope the schools will decide to close temporarily instead of resuming after spring break to slow the speed at which the virus is spreading.
I will create and send pre-recorded video lessons to each Friday student (regardless of what your attendance status was for tomorrow) as soon as possible over the next few days, starting with the Little Twinklers first because their progress tends to be most affected by gaps in attendence. To help me tailor my instruction to each student's needs, the duration of the initial video(s) sent will be roughly 2/3 of your scheduled class time. Please send a short practice video back and I will then reply with personalized feedback (written, video, or both). I'm happy to go back and forth multiple times throughout the week as needed to ensure any new material or corrections are understood and progressing smoothly and will not be limiting the total amount of time spent.
If we find ourselves studying remotely for a longer period we will be using a combination of live video chat lessons/classes and pre-recorded ones. As always, I will continue to welcome short practice videos anytime -- if we all wind up spending a lot of extra time at home, students will occasionally decide to dive deep and want to send multiple videos back and forth in one day to master something. That process is very rewarding for both student and teacher so please do not hesitate to do so!
(Friday students, you received this information earlier today via email. Please send me a quick note back letting me know you got it. Thanks!)