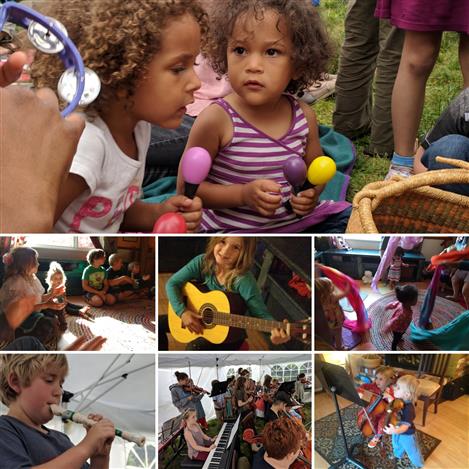 Uncaged Musicians are...
fun-loving, curious, and creative!
Uncaged Musicians learn to improvise from the very beginning, exploring the many sounds their voices and instruments are capable of making and eventually working on voice leading, chord charts, modes, and more. They are encouraged to take ownership of their learning process and their input is valued highly in many areas from expressive elements and fingering choices to class topics and repertoire.
process-oriented and intrinsically motivated.
Uncaged Musicians learn to work through challenges, try new things, and be proactive about asking for help when needed. For youth students, music is valued highly in their families, and while the student has agency over beginning and continuing study, their caregivers know that adult assistance is essential for forming and maintaining practice and listening routines until the teen years. Family members understand that learning is not linear and are unwavering in their encouragement of the student. They seek out enrichment experiences, such as attending live music events, listening to a variety of genres, noticing the role music plays in movies and video games, and so on.
community minded!
Uncaged Musicians love to collaborate and offer enthusiastic support. They treat one another with respect and honor their differences in race, ethnicity, gender, orientation, religion, income, age, skill level, neurodivergence, etc. They perform with and/or for their friends and family. They are eager for ways to use their music to make a positive impact on their communities and the world.
comfortable with technology... or willing to learn
Uncaged Musicians value technology as a learning tool. Our online portal grants access to a wealth of information and resources! Lessons and classes are offered in person and on Zoom. During public emergencies such as fire, flood, pandemic, etc., in person lessons/classes may be switched to Zoom and/or in on-demand videos for safety reasons. In addition, studio families may occasionally be asked to make and upload short videos to Google Drive in order to participate in online concerts. Our studio families' philosophies on tech usage and screen time run the gamut but they all willingly use computers or mobile devices to participate fully in studio activities. Please get in touch if gear or internet access pose a financial hardship at any point so additional support or alternative solutions can be provided to you.