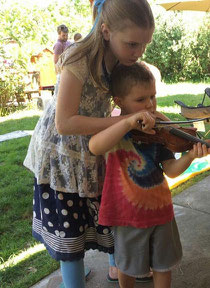 Welcome to our Student Teacher Apprenticeship Program! One of the best ways to learn is by teaching, and we are so happy to offer abundant opportunities for students to dip their toes into teaching. Our Apprenticeship Program offers a perfect balance of freedom and guidance. Some of our teachers in training may find a lifelong career, others a flexible part-time job, but all experience the joy of witnessing improvement in their own playing as well as that of their students. Read on for more details on our student teachers (ages 12+), student coaches (ages 12+), and teaching assistants (ages 9+). If you are a current intermediate-advanced student interested in becoming a student teacher, coach, or TA, get in touch to learn more! NOTE: after taking spring and summer off from our apprenticeship program due to the pandemic, we will again have opportunities for interested students to serve as student teachers, coaches, or teaching assistants starting in fall 2020!
Our Student Teachers
Intermediate-advanced students ages 12-adult who have given a consistently outstanding performance over 18+ months as a Teaching Assistant may be invited to co-teach one of our Twinklers classes.
Student teachers conduct as much of the class as they are capable of successfully doing, with with master teacher Elizabeth Erickson on hand to offer support as needed. They are given detailed weekly class outlines, spend extensive time outside of class preparing, and receive ongoing feedback honing their teaching skills. Student teachers who excel after 18+ months of co-teaching and are at least 16 years old may be invited to co-teach increasingly advanced classes with the potential to one day open their own Satellite Studio!
Our Student Coaches
Hand-picked intermediate-advanced students ages 12-adult who have been accepted after a process that includes a written application and interview coaching session are available to work one-on-one with beginners currently enrolled in our Twinklers, Fireflies, and Sparklers classes.
Student coaches are provided with goals, suggested lesson plans, and information about their student's skill levels in various areas to ensure they are poised to offer exactly the right support!
Our Teaching Assistants
Select intermediate-advanced students ages 9-adult are invited to serve as teaching assistants. TAs help in a variety of ways, including demonstrating skills, leading games, offering individualized student support, and more. We are delighted to have the following TAs on our roster this year:
Allegra L. - violin and viola
Fiona E. - violin/viola, cello, recorder, & piano
Sabrina C. - cello
Tara G. - piano and violin
Aysah D. - piano and guitar
Parker H. - recorder and piano