Notes from Elizabeth:
I will begin accepting new students again in fall 2020.
Black Lives Matter. Please read my recent blog post regarding our official stance on racial justice.
I have revised the website to reflect our COVID-19-prompted change to virtual lessons and classes. The Online Study page and Tuition & Scholarships page are both now accurate! Other pages may still contain info specific to our in-person offerings from the 2019-2020 school year. Please use the contact form if you have questions. Thanks!
Looking for a thriving musical community? Our Uncaged Musicians Classes bring fun and collaboration to the forefront while maintaining the highest standards for musical development.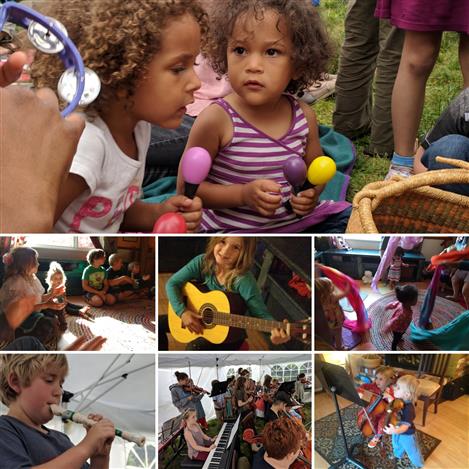 Uncaged Musicians are creative! They learn to improvise from the very beginning and love exploring the many sounds their voices or instruments are capable of. They are encouraged to take ownership of their learning process and their input is valued highly in many areas, such as expressive elements, fingering choices, class activities, and even repertoire.
Uncaged Musicians collaborate! Small group classes and ensembles make for a high level of comfort playing with others. Students also play music games to develop skills such as rhythm, phrasing, intonation, ear training, reading, conducting, and more, all of which are easily and enthusiastically done thanks to the joyful momentum of a class of peers.
Uncaged Musicians are confident! Students see themselves progressing from level to level, Fairy Lights to Wind Dancers/Sun Catchers, Twinklers to Fireflies, Sparklers to Intermediates and finally Advanced! Studio-wide concerts give everyone a chance to see where they have been or where they are heading. Our annual post-concert discussions offer an invaluable checkpoint in which students reflect back over the previous year, highlight personal accomplishments, make repertoire suggestions, and set goals for the future. These ways of registering their own tangible process are so grounding and inspiring!
Uncaged Musicians are capable! Students in our classes achieve a thoughtfully crafted, well-rounded foundation. From the very first class even our youngest students step onto the path to music literacy with solfege patterns for major and minor tonality and the Gordon rhythmic language. For beginning instrumentalists, learning is approached by rote and by reading separately, allowing students to zoom ahead in their area of expertise while continuing to strengthen whichever one they find more challenging. This dual approach to mastering both vital skills is key to being comfortable playing in diverse genres. Intermediate and advanced students gain fluency with learning by ear and by sight in combination, delve deeply into music theory, and are empowered to step out into the world as highly trained musicians. Some of our preteen, teen, and adult students even bring their knowledge and love of music back to our community as TAs and student teachers through our Apprenticeship Program!