Black Lives Matter
Tuesday, June 9, 2020 by Rylin Erickson | Uncategorized
Black lives matter.
Black families matter.
Black musicians matter.
Elizabeth Erickson, KnightLizard Music studio, and Uncaged Musicians classes are strongly committed to protesting racism and police brutality and working towards social justice and the deep systemic change that requires.
Decolonizing our studio, which has previously been a long-term goal producing incremental change, is now receiving the majority of our efforts and will see improvement more swiftly as a result. Decolonization by its very nature produces an environment that more effectively serves each individual, which is particularly crucial for our BIPOC students, LGBTQ+ students, neuro-diverse students, and students with disabilities.
Because of this priority in combination with our pandemic-induced online study, current students may experience format changes more frequently than usual, always preserving their right to direct their personal study and collaborate on their vision for group study which is an integral part of decolonization. Our usual annual interview is happening in private lessons this week and includes questions that will help dial in what is working best and should be preserved and where there is ambivalence and therefore a perfect area for targeted innovation.
To allow for optimal focus on decolonization, we do not plan to accept new students until fall. To join our waiting list, fill out the registration form on our website: www.uncagedmusicians.com/Registration or visit the MusicLink Foundation to apply for a need-based scholarship: www.musiclinkfoundation.org
Prospective students please reach out with any questions prior to registration. Because we may be changing structure more frequently than usual this summer it is likely that our public website and Facebook page will sometimes temporarily lag behind in order to prioritize keeping the areas current students use (private online portal and private Facebook group) up to date. Your understanding and patience are appreciated!
I'd like to end with a quote from Shinichi Suzuki. This brilliant pedagogue created the Suzuki method in the aftermath of World War II and believed deeply in music's potential to preserve our humanity. He also tried to emphasize that each teacher continue the work he started and adapt their approach to suit their students, a belief that is at the core of my own philosophy.
"Teaching music is not my main purpose. I want to make good citizens.* If children hear fine music from the day of their birth and learn to play it, they develop sensitivity, discipline, and endurance. They get a beautiful heart."
- Shinichi Suzuki
* I would replace the word "citizens" with "humans"
Zoom Story Concert May 2nd!
Thursday, April 9, 2020 by Rylin Erickson | Uncategorized
Dear Students,
[NEW: for those of you who prefer to listen rather than read, I am starting to make audio versions of my lengthier emails. See the file attached to the email that was sent today 4/9/20!]
One of my favorite times of the year is our Story Concert in early May, and I know it's something many of you look forward to as well. I have come up with a good way we can still "gather" together (virtually) on Saturday May 2nd, as originally planned, for music tied together by a collaborative story!

First, let me say participation is *optional* -- as is attendence -- and if you choose not to participate you can definitely still come watch (or even participate but not actually attend the live show if that's what works best for you).

Any students who want to participate will choose a piece they are comfortable performing as a solo. I'd like it to be fairly recent but not a current work-in-progress unless it is already in final polishing stages. Let me know your choice so I can give it the official seal of approval! Then I can put together a program order so we can get started on the story.

Those students who are participating will each make a video of them playing their piece. (Think about lighting, camera angle, using the device that gets the best sound quality, maybe even fun costumes or props, though you'll probably want to wait until the collaborative story reaches you before committing to any elaborate extras.)

Collaborative story? Yes! Just like in our live concerts, the performers will each write a sentence or short paragraph connecting their piece to the rest of the program. We'll write it in program order as usual and record videos of the story, too, so no one needs to perform or read live. Pre-recording should give us better AV quality. It also makes for a more relaxing experience! Under the circumstances, I didn't think anyone would mind skipping the stress of live performance this spring.

On May 2nd, time TBD by those performing, we'll meet on Zoom using an event-specific password protected link (NOT the same one we use for lessons/classes; please keep that one private) that you can share with friends and family. You can post publicly in general about this concert and ask people to contact you directly for the link; only share that info in private message form with those you know and trust.

On Zoom I will play the students' performance and story videos in program order. We will all sit back, enjoy, eat snacks, applaud one another, and speak or type our congratulations to each performer! If possible, this Zoom concert will stream to YouTube and/or Facebook as long as I can do so in a non-public way (into an unlisted YouTube video, into our private Facebook group, etc.) to make it easier for you to share with those who could not attend on Zoom.

Let me know if you would like to participate and if so, any time constraints/preferences you have for Saturday May 2nd. I can't wait to see your faces, hear your beautiful music, and enjoy what is always an epic story!

Cheers,
Elizabeth
Important info for our Zoom classes & lessons
Sunday, March 22, 2020 by Rylin Erickson | Uncategorized
Hi Students,
I am looking forward to seeing you all via Zoom this week! I have updated our studio calendar in the portal. Please sign in and double check that your new timeslots match what I confirmed with each of you individually; I've done my best, but normally I get at least a few weeks to proofread a new schedule!
NEW: there is now a link directly from your portal to our Zoom meeting on your homepage as well as in the calendar, indicated below with red arrows: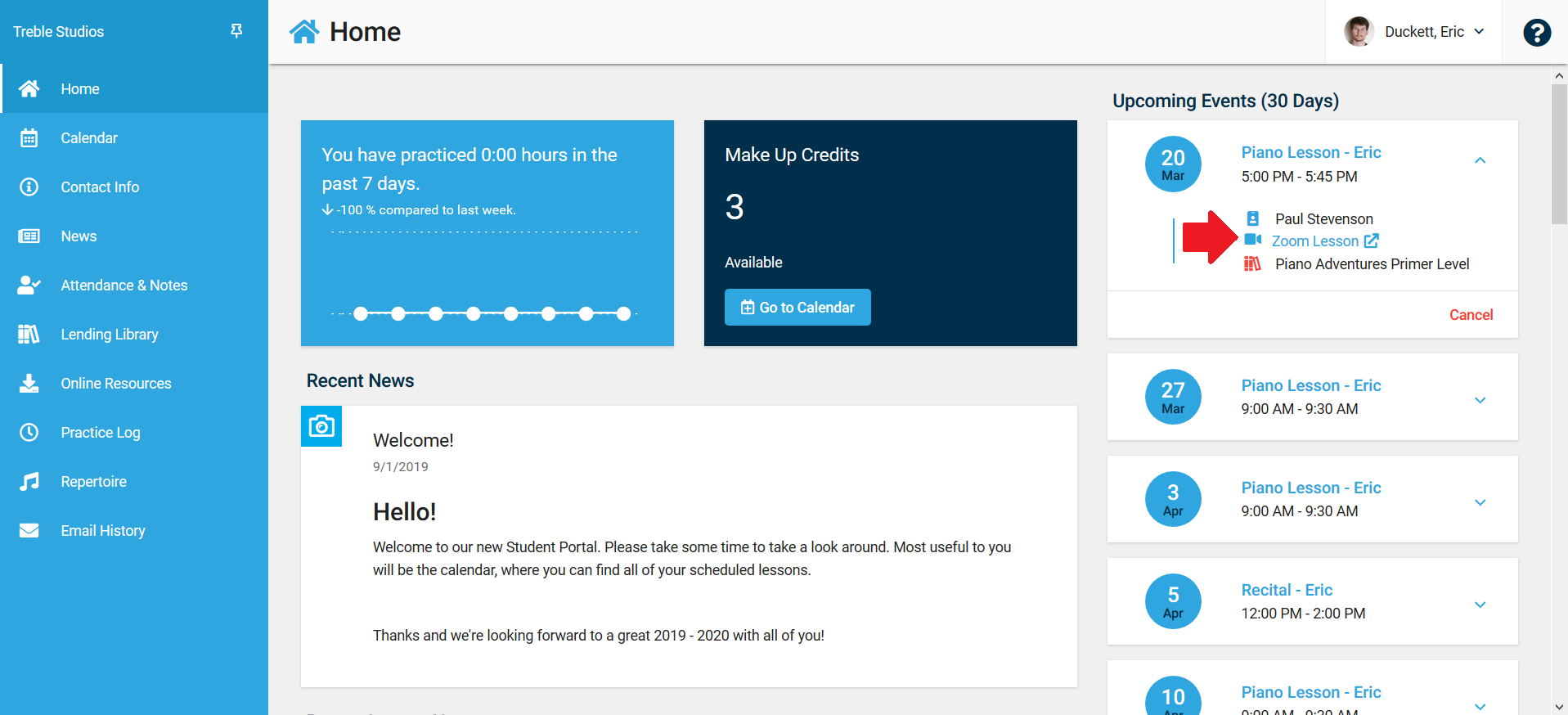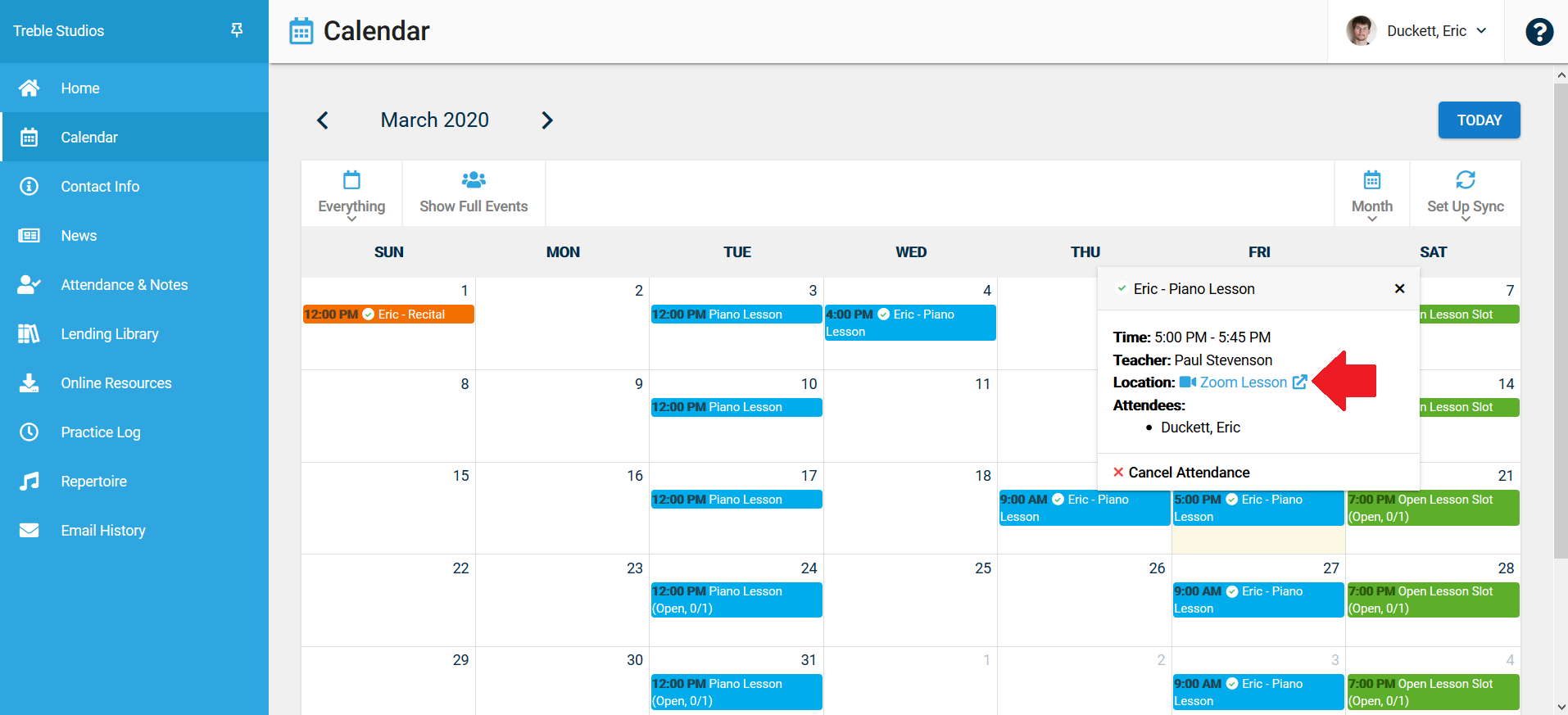 This should make your virtual commute fairly easy! However, if you have any technological issues arise please send me a quick text; I'll try to keep my phone close by during the first few minutes of each class in case anyone needs help logging in this first week.
I recommend the following audio settings (not all are available on mobile devices or the browser version of Zoom; all should be possible on a computer if you downloaded Zoom):
"Automatically adjust microphone volume." Turn OFF.
"Allow option for using original sound." Turn ON. [If you are able to do this, then in the upper left corner of the main video screen, you'll see a box that says, "Enable Original Sound." Make sure this is set to have original sound on each lesson. The wording is confusing on this, so I've started toggling it back and forth to make sure.]
"Suppress persistent background noise," Turn OFF.
"Suppress intermittent background noise." Turn OFF.
And here's a day-of-class checklist to ensure things run as smoothly as possible:
Please begin the process of navigating to Zoom at least a few minutes early! I will have a virtual "waiting room" set up so you don't need to worry about interrupting the previous lesson.
Set up your device the way we discussed in our prep meetings a few days ago: piano players I'd like to see all of the keys and your arms at least from elbows to hands, preferably from the right side looking left. Bowed string players I would like to see both your left hand and at least the contact point of your bow, preferably most if not all of the bow. Guitar and recorder players I want to see both hands. (And of course if possible I'd love to see everyone's faces!)
If your instrument requires tuning (violin, viola, cello, guitar) please tune ahead of time! If you need tuning help, ask me the day *before* your class and I would be happy to help walk you through it.
For younger kids especially, try to meet any pressing needs (bathroom, food, water) beforehand.
Little Violin Twinklers please have a washable marker ready to draw Fred! Draw him ahead of time if possible. (You were introduced to Fred in your pre-recorded video class last week Friday).
Absences and makeups for classes: I have set all Zoom classes to be recorded automatically so an absent student can watch the video later as an on-demand makeup class!
Absences and makeups for private lessons: Students who will be absent from a private lesson can reschedule as long as I am contacted before 10am that day.
I think that's it! Thank you for your patience and understanding as we figure this out together. I am glad to be able to offer my students (and myself!) a tiny pocket of normalcy in otherwise unfamiliar terrain. I have taken care to design these Zoom classes to be extremely flexible so students can easily opt in or out of learning new material each week. In tough times, music offers me a great deal of comfort, and it is my primary goal to help my students experience this themselves.
Cheers,
Elizabeth